Scott vs. Waite, Thanksgiving 1923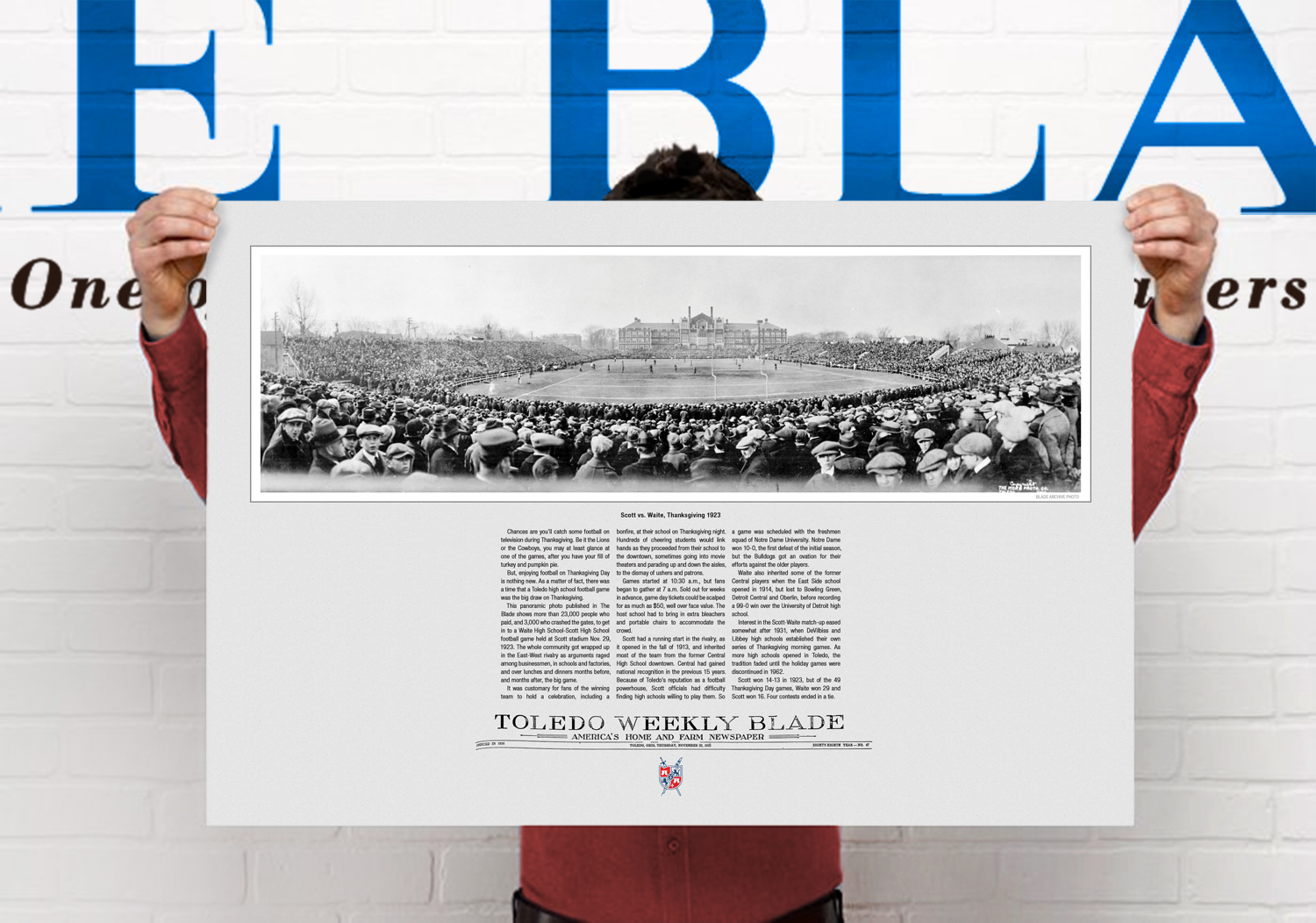 Scott vs. Waite, Thanksgiving 1923
Print features Blade original panoramic photo of the Scott High School versus Waite High School football game on Thanksgiving Day 1923 — includes digitized authentic Blade nameplate from the original date and caption text contextualizing the event. (Customization available.)
Click below to read the full text contained on the print.
Text on print reads:
Chances are you catch some football on television during Thanksgiving. Be it the Lions or the Cowboys, you may at least glance at one of the games, after you have your fill of turkey and pumpkin pie.
But, enjoying football on Thanksgiving Day is nothing new. As a matter of fact, there was a time that a Toledo high school football game was the big draw on Thanksgiving.
This panoramic photo published in The Blade shows more than 23,000 people who paid, and 3,000 who crashed the gates, to get in to a Waite High School-Scott High School football game held at Scott stadium Nov. 29, 1923. The whole community got wrapped up in the East-West rivalry as arguments raged among businessmen, in schools and factories, and over lunches and dinners months before, and months after, the big game.
It was customary for fans of the winning team to hold a celebration, including a bonfire, at their school on Thanksgiving night. Hundreds of cheering students would link hands as they proceeded from their school to the downtown, sometimes going into movie theaters and parading up and down the aisles, to the dismay of ushers and patrons.
Games started at 10:30 a.m., but fans began to gather at 7 a.m. Sold out for weeks in advance, game day tickets could be scalped for as much as $50, well over face value. The host school had to bring in extra bleachers and portable chairs to accommodate the crowd.
Scott had a running start in the rivalry, as it opened in the fall of 1913, and inherited most of the team from the former Central High School downtown. Central had gained national recognition in the previous 15 years. Because of Toledo's reputation as a football powerhouse, Scott officials had difficulty finding high schools willing to play them. So a game was scheduled with the freshmen squad of Notre Dame University. Notre Dame won 10-0, the first defeat of the initial season, but the Bulldogs got an ovation for their efforts against the older players.
Waite also inherited some of the former Central players when the East Side school opened in 1914, but lost to Bowling Green, Detroit Central and Oberlin, before recording a 99-0 win over the University of Detroit high school.
Interest in the Scott-Waite match-up eased somewhat after 1931, when DeVilbiss and Libbey high schools established their own series of Thanksgiving morning games. As more high schools opened in Toledo, the tradition faded until the holiday games were discontinued in 1962.
Scott won 14-13 in 1923, but of the 49 Thanksgiving Day games, Waite won 29 and Scott won 16. Four contests ended in a tie.